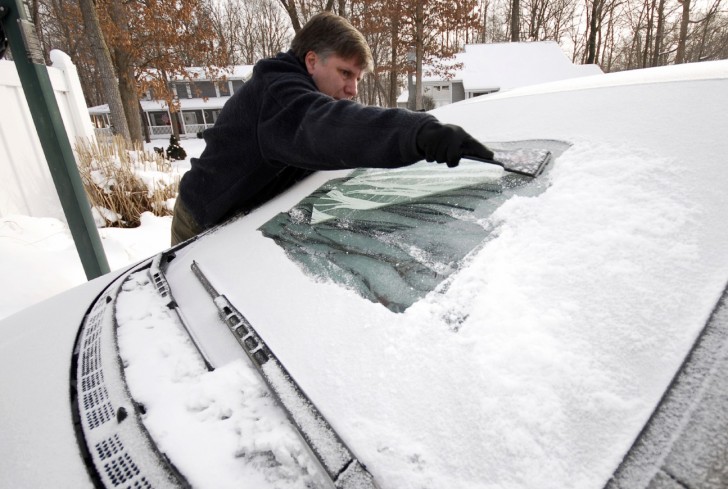 Winter is coming, whether we like it or not.  Brisk mornings, frost, and lots of snowfall are all prevalent especially here in the northeast.  With winter, comes an increased risk of damage to your windshield due to snow, salt, cold weather, and other unavoidable pleasantries.  There is good news though!  There are some avoidable errors of wintertime that we would like to pass along to you!
The first tip we have to offer is never leave your windshield wipers on when you turn your car off.  This time of year we see a lot of drivers who have burned out their windshield wiper motor when the motor tried to turn wipers that were thoroughly frozen to the windshield.  In other cases the wipers remained stuck, but the wiper arms moved accordingly, resulting in some pretty severe damage to the windshield, which required replacement.  No matter the conditions, we recommend making it a habit to turn them off when you get out.
And for the same reason you should always remove ice and snow from the windshield and the wipers before turning them on.  When there is six inches of snow on your car, please don't turn your wipers on for a moment and then drive off.   The same goes for the side windows, where trying to move a frozen window can strip the cheap plastic parts that operate or even worse shatter the tempered glass.    Not only is it unsafe for you and other drivers, it could end up costing you a lot more in repairs than you ever thought a windshield wiper problem could.
And of course, have windshield http://www.autoglassnj.com/services/auto-glass/ chips and cracks addressed immediately to avoid further damage.  This is exceptionally important in the winter, since thermal expansion can cause the heated inner layer and the cold outer layer to push and pull against one another.  This type of pressure can turn a small repairable chip into a full windshield crack in the blink of an eye (or a bump in the road).
And remember, when the severe weather comes we are all just trying to stay on the road and get where we need to go.  Show some kindness for your fellow man and drive as safely as possible – You may just spare a life!